Versione Italiana
Luciano Schiazza M.D.
Dermatologist
cell 335.655.97.70
www.lucianoschiazza.it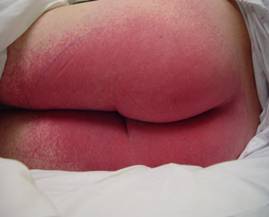 It's not a joke. It's a real syndrome. Andersen and colleagues in 1984 introduced this term to describe a cutaneous rash of the buttocks resembling the red gluteal region of baboons.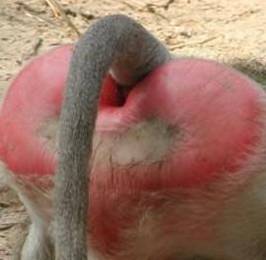 It was observed in three patients who were exposed to mercury (after the breaking of a clinical thermometer), nichel, ampicillin.
In 2004 the acronim SDRIFE (Symmetrical Drug-Related Intertriginous (buttock and groin folds) and Flexural (other folds) Erythema(redness) was proposed to include only the specific clinical pattern of  baboon syndrome, with its five clinical criteria:
occurence aftrer exposure to systemic drugs (by ingestion, inhalation, injections),

sharply-well demarcated bright erythema of the buttocks and/or V-shaped erythema of the thigs,

involvment of at least one other flexural fold,

simmetry,

absence of systemic symptoms.
The unset of erythema usually begins a few hours to a few days after systemic exposure to the inciting agent and reaches a peak between the second and fifth days after exposition to the allergen.
A lot of drugs can trigger this syndrome:
antibiotics (most commonly beta-lactams but not only. Amoxycillin, ampicillin, clindamycin, penicillin, erythromycin, roxithromycin, cepohalexin, ceftriaxone, cefuroxime, ciprofloxacine)

corticoids (betamethasone, deflazacort, dexamethasone, hydrocortisone, methylprednisolone, prednisolone),

nystatin, terbinafine,

allopurinol, aminophylline, topical bufexamac, cimetidine, heparin, naproxene, pseudoephedrine, barium sulfate, cetuximab, intravenous immunoglobulins, hydroxyurea, risperidone.
The condition is self-limiting: withdrawal of the drug brings about a rapid improvement  and clearing of the eruption in a few days without any specific therapy.
The baboon syndrome should be considered in the differential diagnosis of intertrigo (inflammatory condition of skin folds) such as those caused by friction, maceration, fungal infection. textile or fragrance-related allergic contact. It is crucial to be aware of this clinical entity especially in atypical and therapy-resistant intertriginous eruptions.